COSTUMER TIPS: When I was working as a costume designer, my biggest fear was always keeping my wardrobe clean. Most of the actors I've worked with have always respected their wardrobe, but accidents happen. Through the years I've learned and collected quick tricks to treat my wardrobe, especially whites. I love wearing whites myself, but I am quite clumsy… so these are also tricks I often use on my own. Here are some of the quick and dirty ones that you can use in your every day to prevent mishaps!
This outfit looks a bit like a stain magnet, right?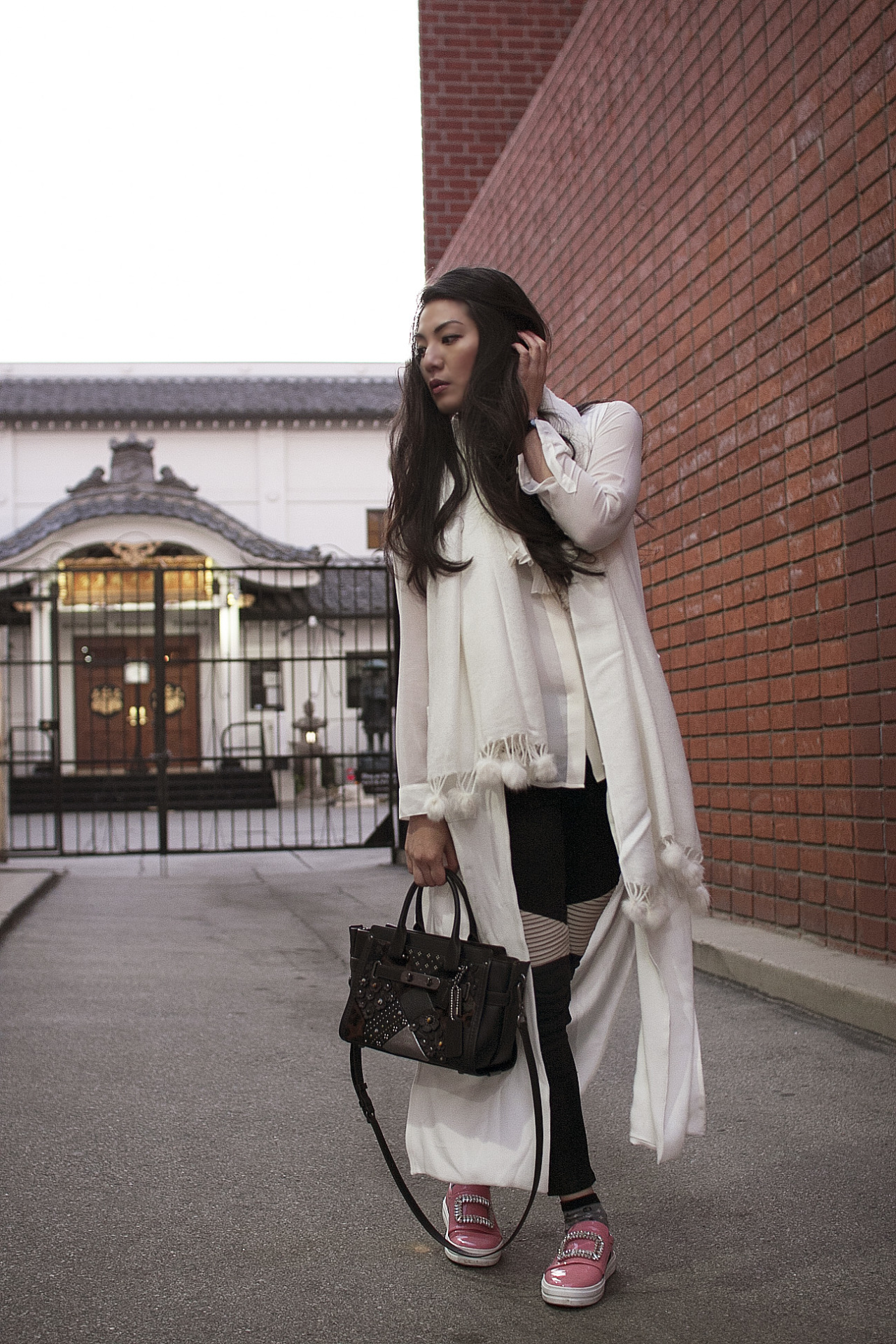 These little items, you can purchase anywhere, and they come in travel sizes for your convenience. Keep them in your handbags or cars, handy for a quick fix.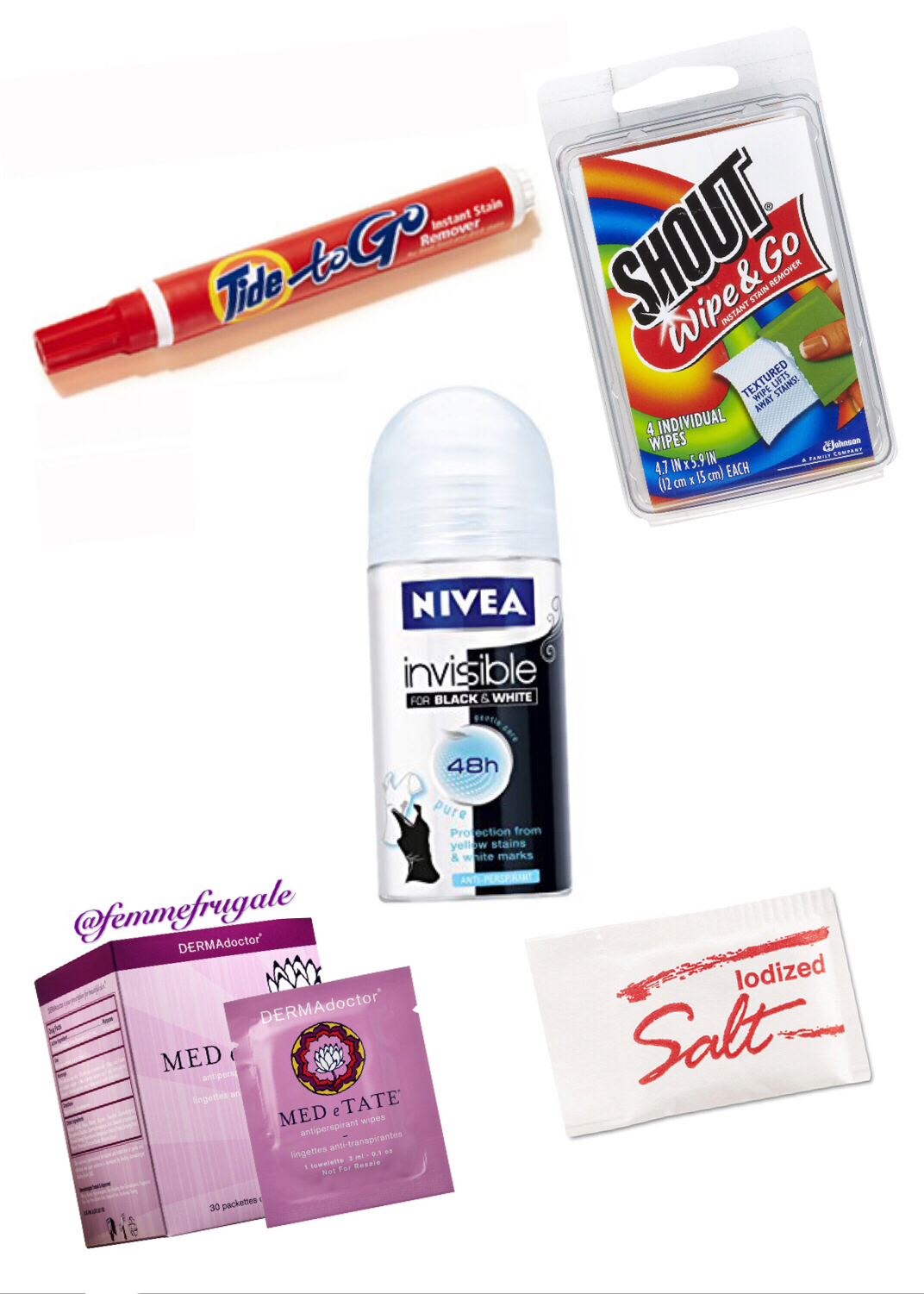 Tip 1: Identify stain and be fast. When you first get a stain, you have to act quickly, but act correctly. Different stains on different fabrics have different tricks.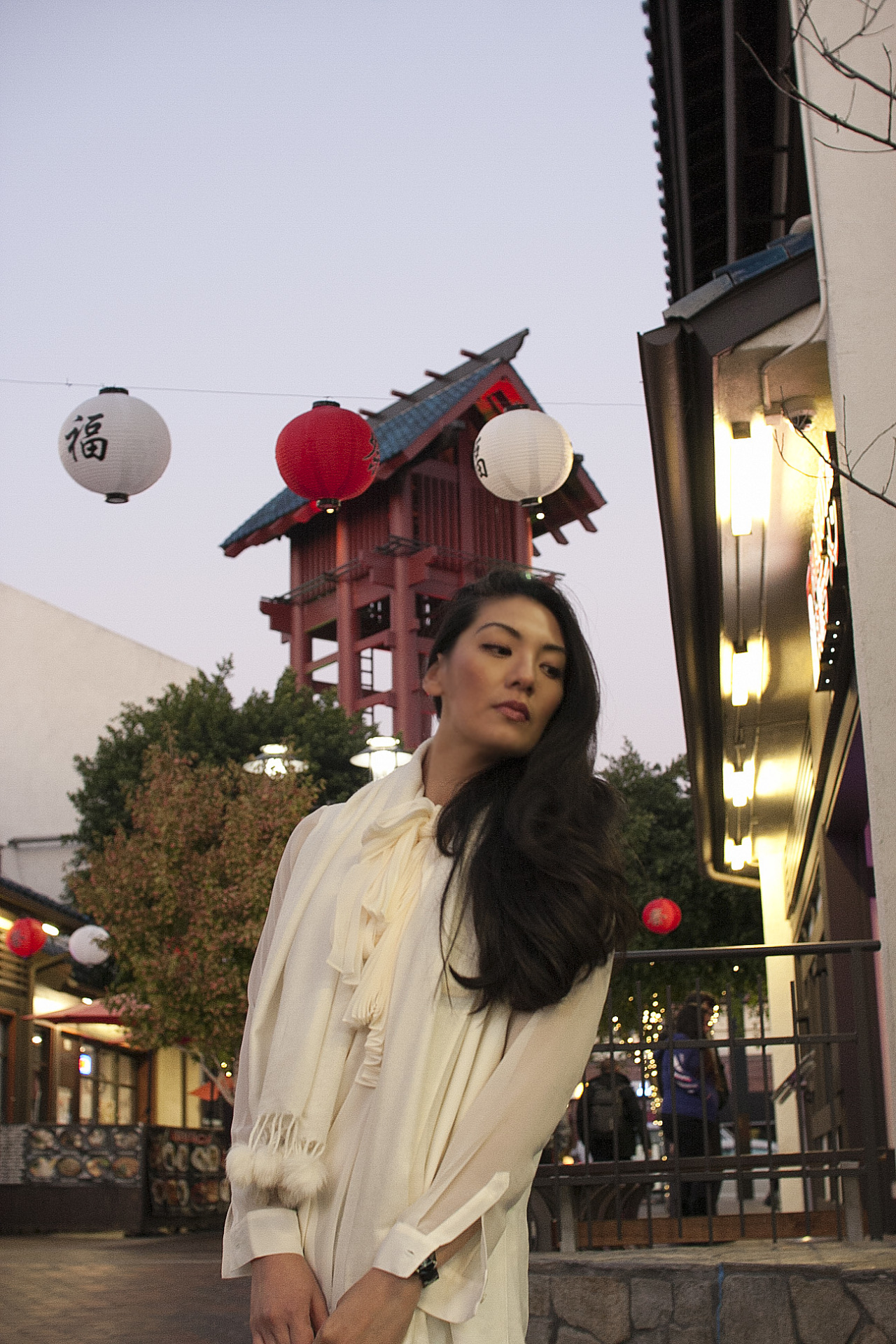 Tip 2: Red wine and grease on whites need to be sprinkled with salt. The salt will soak up the excess liquid or grease, and then you need to soak the fabric with a stain remover like "tide to go". Dabbing the area is not a good idea, because depending on the fabric, you may actually rub the stain into the clothes even more.
Tip 3: If it's a normal food stain that's not too dark in color or too greasy, a simple stain remover wipe like "Shout" will work. Use small circular motions and lightly rub until the stain is mostly gone, then launder as soon as possible.
Tip 4: This one is more preventative, and because I "run around" quite frequently, I tend to perspire a lot. I've recently fallen in love with the Nivea "invisible for black & white" for every day uses. For those humid Asia trips that I take, a body deodorant dry wipe like DERMAdoctor's MEDeTATE works really well when I wear white. I mean, it's too hot to not wear white in Asia, but I can't keep worrying about stains~ 😉
Now go out there and enjoy your whites confidently!!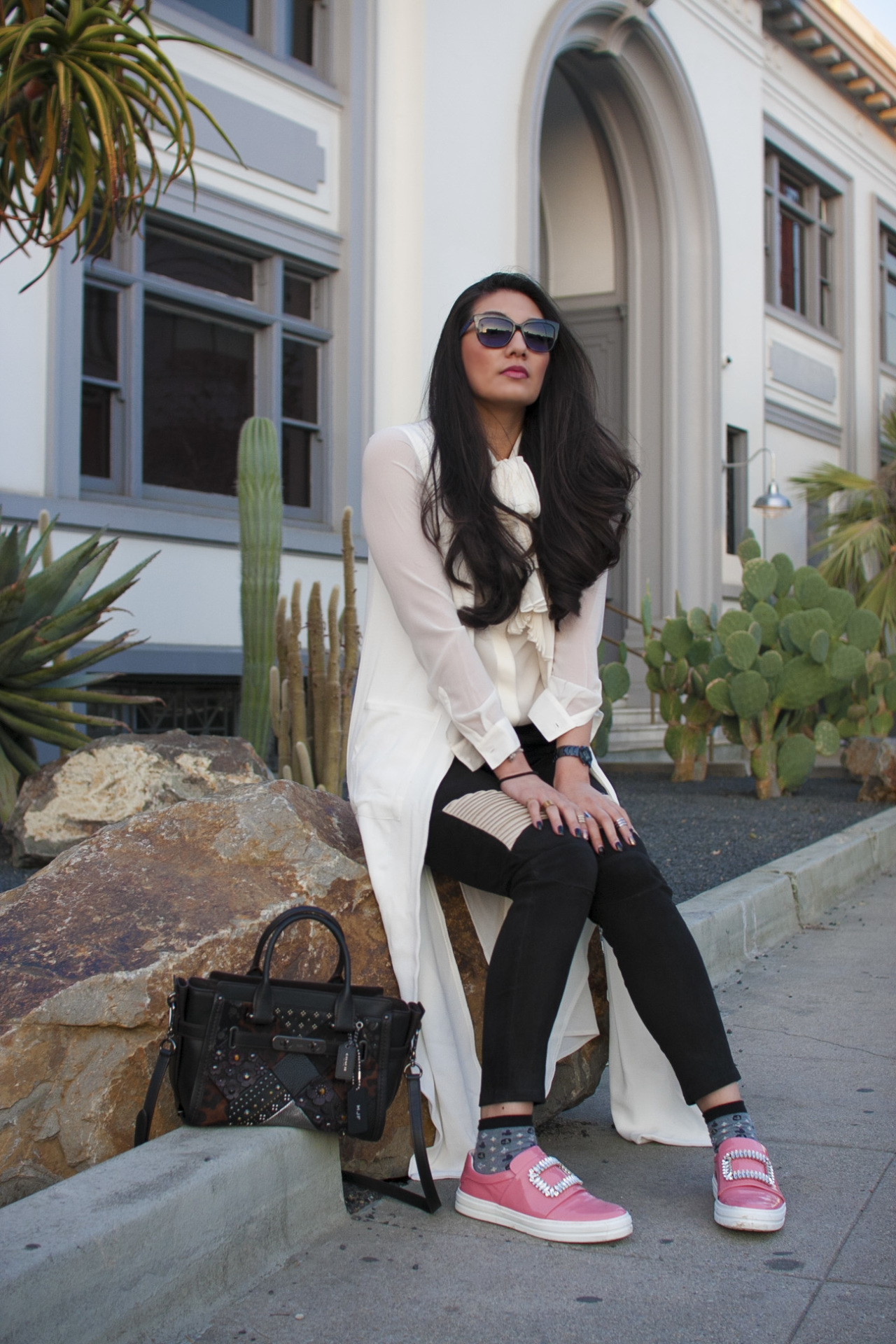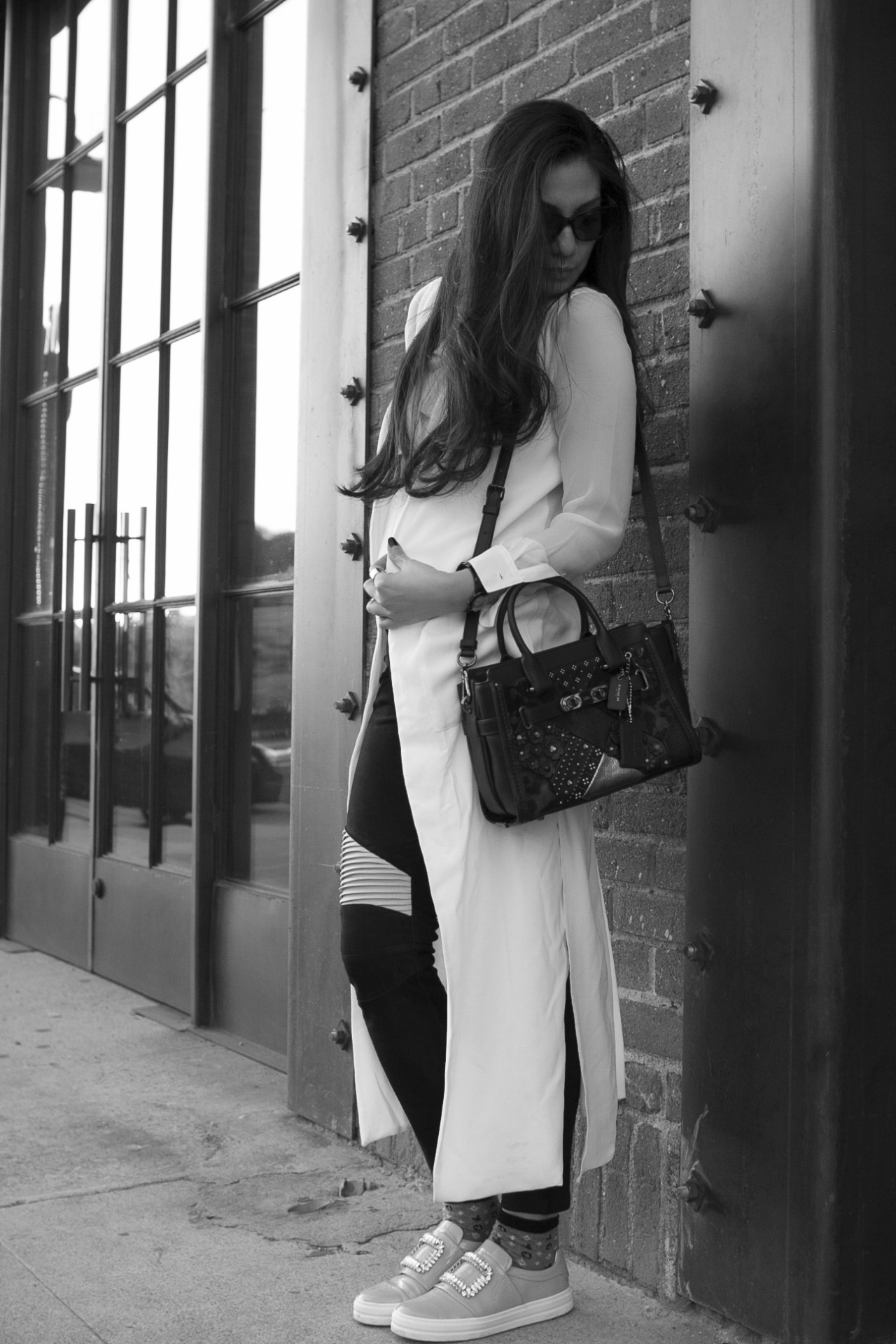 Hopefully I've given you some ideas on how to not fear wearing whites. And hey, if worse come to worse, a good dry cleaner is also a life saver haha!!
Blouse: Michael Kors
Long Vest: boohoo
Scarf: Nordstrom brand
Shoes: Roger Vivier
Handbag: Coach
Socks: Uniqlo